Jennifer Lawrence and Chris Pratt's 'Passengers' Gets a Very Weird Trailer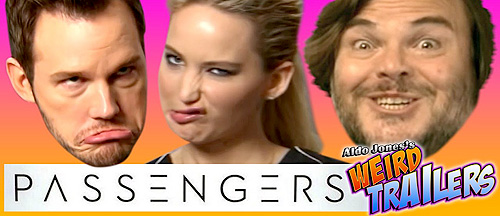 While the press tour for Jennifer Lawrence and Chris Pratt's movie Passengers may have received favorable coverage, the movie itself didn't. It's currently sitting on a critic's score of 31% on Rotten Tomatoes. Still, one thing it has got going for it is that Aldo Jones has turned the film's trailer into something rather amazing as part of his 'Weird Trailer' series.
Which means the Italian video editor has made things extra amusing by totally warping Pratt and Lawrence's beautiful faces, and then randomly placing in shots of Jack Black. Maybe Jones can do the same for the whole feature film, improving that too?