Girl Prays to Cause Japanese Earthquake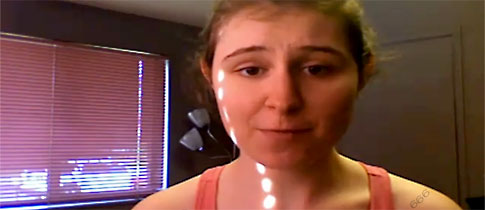 As if the devastation befalling Japan isn't heartwrenching and appalling enough, there's always one sick, twisted individual looking for attention. And in this instance it's this douche-faced girl, praying to an absent God for the death of 1000s of individuals. Or just trolling the world? Either way, just how is a person supposed to fap to this?
The original video is no longer on YouTube as the author (Pamela M Foreman) has closed her account. You can find out more about her here. Thank you God for giving someone the wisdom to save it and re-upload it.
This video below puts it all in perspective…
NEWS UPDATE!!!
Well, it turns out she was: YouTuber TamTamPamela, who managed to enrage the entire World Wide Web in the span of a single day with her chilling gratitude to God for shaking Japan, recognized that she may have taken her performance art a tad too far and finally admitted to being a Poe. That's right: She was just trolling! Hilarious.
Meanwhile, the TamTamPamela account has been removed. The copyright claim notice points to an outfit called "LaughAloneTV" who were in the process of signing the lulzy lady up when she freaked and pressed eject. Reads one tweet: "I guess the hate was too much for her. never got to sign her."
I can't decide which is worse: Her sensationalist trolling, or the bankrolling of her sensationalist trolling. It's the bankrolling one, right?
Either way, God's not gonna be too pleased he got duped by a troll!
(And YES, i did swipe the last bit of copy from The Daily What)