Women vs Men: Not So Parallel (parked)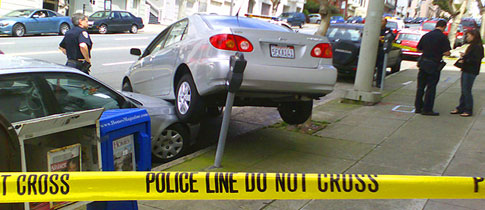 A British study billed as "the most comprehensive ever conducted on gender driving differences" has concluded that women are better at parking cars than men. The study, which relied on surveillence camera footage of over 2,500 drivers across 700 parking garages, was devised by professional driving instructor Neil Beeson, and produced by car park firm NCP.
Among its findings: Women are better than men at tracking down spaces, lining up with the parking space, and reversing into spots "by the book." Meanwhile, men are better at entering spaces while driving forward, and exhibit more confidence than their female counterparts, leading to quicker parking decisions.
"The results also appear to dispel the myth that men have better spatial awareness than women," said Beeson. "It shows that us men need to give our partners more respect when it comes to parking. The facts don't lie."
The study is one of the most comprehensive ever conducted on gender driving differences, and took into account seven key components of parking styles.
Women were also found to be better at finding spaces, more accurate in lining themselves up before starting each manoeuvre, and more likely to adopt instructors' preferred method of reversing into bays.
Men were shown to be more skilled at driving forwards into spaces and more confident overall, with fewer opting to reposition their car once in a bay.
But once all the elements were taken into account, women were ranked first with a total score of 13.4 out of 20, compared to 12.3 points achieved by men.
Each aspect of a person's parking was marked and added to a final tally to produce a "parking coefficient" for the two sexes.
The first category analysed people's ability to find spaces. Researchers found that impatience caused many men to drive too quickly around car parks, meaning they missed free bays. Meanwhile, women's slower approach meant they were better able to notice spaces, or spot when other drivers were about to leave.
More than three quarters of women were found to excel in their so-called "pre-parking pose", setting themselves up to pull into a space, compared to just over half of men observed.
Thirty-nine per cent of female drivers cleanly executed reversing into spaces, compared to only 28 per cent of men.
Men were much quicker at parking, taking 16 seconds on average against the 21 seconds women needed to complete the manoeuvre.
However, the extra time paid off leaving 52 per cent of women parked in the middle of each bay, compared to 25 per cent of men. This category proved particularly punishing for the men's rating as it was the most heavily weighted in the coefficient.
But James May, the Top Gear presenter, last night challenged the criteria of the study, saying that parking in the centre of a bay was not always the best policy – especially if a neighbouring car was parked too close to the dividing lines.
"You have to take into consideration the cars parked next to you – you ought to be judged on how central you are to them," he told The Daily Telegraph.
"I don't care what gender the person is next to me, I just don't want them to bang their door on my Porsche."
Vicki Butler-Henderson, the racing driver and television presenter, said: "Parking in a space is obviously different to reverse parallel parking, but I'm delighted that the fairer sex has come out on top – the findings ring true from my experience.
"Women do take more time, but I know a lot of male racing drivers who win races and are incredible round a track but can't park for toffee."
From the figures, the study concluded that, as the average motorist parks a car 1,004 times in their lifetime, women spend 12 days of their lives parking compared to nine days for men.
The findings contradict not only popular belief but also previous research. Figures from the Driving Standards Agency last year disclosed that tens of thousands more women fail their driving test on parking errors than men.
Researchers at the Ruhr University Bochum, in Germany also found that women take up to 20 seconds longer than men to park a car.
Only one fifth (18 per cent) of women questioned for the NCP study thought they were better parkers than men, and less than a third (28 per cent) believed they were better parkers than their partners.
Article taken from: The Telegraph